Technology Transactions: A Practical Guide to Drafting and Negotiating Commercial Agreements is an indispensable guide that empowers practitioners to draft, review, and negotiate technology transaction agreements with the confidence that they are properly addressing the most important issues. It is written primarily for practitioners who may not be experts in technology transactions.
The contents are presented in a streamlined fashion, with an eye toward the transactions that an in-house counsel or a traditional IP or general practitioner is frequently asked to handle. Each of the first ten chapters addresses a discrete type of technology transaction agreement, and the intention is that a practitioner can use the applicable chapter as a checklist for handling that type of transaction, including:
Software license agreements
Software development and other IT agreements
Reseller agreements
Cloud computing agreements
Domain name transactions
Technology licensing and IP-centric joint ventures
Technology escrow agreements
Non-disclosure agreements
Employee agreements
Information security agreements
For a transaction involving a combination of elements (for example, software licensing and software development), the practitioner can use more than one chapter in this fashion.
The remaining chapters cover certain areas of knowledge that should inform the drafting or review of technology transaction documents generally, such as open source software, intellectual property, state transaction taxes, privacy, cybersecurity, dispute resolution clauses, and enforcement of online terms and conditions.
The allocation of information among the chapters is by necessity somewhat arbitrary, but the overriding goal is ease of use for the practitioner. To that end, similar material may be included in more than one chapter. In this way, the reader may find answers quickly and need not hunt through a cascading series of cross-references or footnotes. This material will, however, contain refinements tailored to the agreement at hand, so readers should take care to consult the chapter for the specific agreement in question.
Accompanying the treatise are online editable versions of sample agreements that appear throughout the book, including, for example:
Digital Forms:
Mutual Nondisclosure Agreement
Software License Agreement (Vendor-Favorable)
Short-Form Services Agreement (Customer-Favorable)
Short-Form Services Agreement (Vendor-Favorable)
Unilateral Nondisclosure Agreement
Internet Domain Name Purchase Agreement
Internet Domain Name Escrow Agreement
There are also drafting and practice tips throughout the chapters.
Mark Malven, head of Dykema's Technology and Outsourcing Transactions practice, serves as the lead author of this book, and is joined by more than a dozen other experts who contribute chapters.
Treatise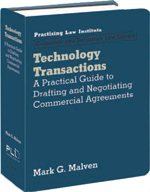 PLI PLUS
Unlimited electronic access to the complete PLI Press print collection including
authoritative treatises, answer books, and course handbooks — as well as
transcripts from PLI's acclaimed original CLE programs.